Quantum Future Academy 2020 - Today's insights for tomorrow's experts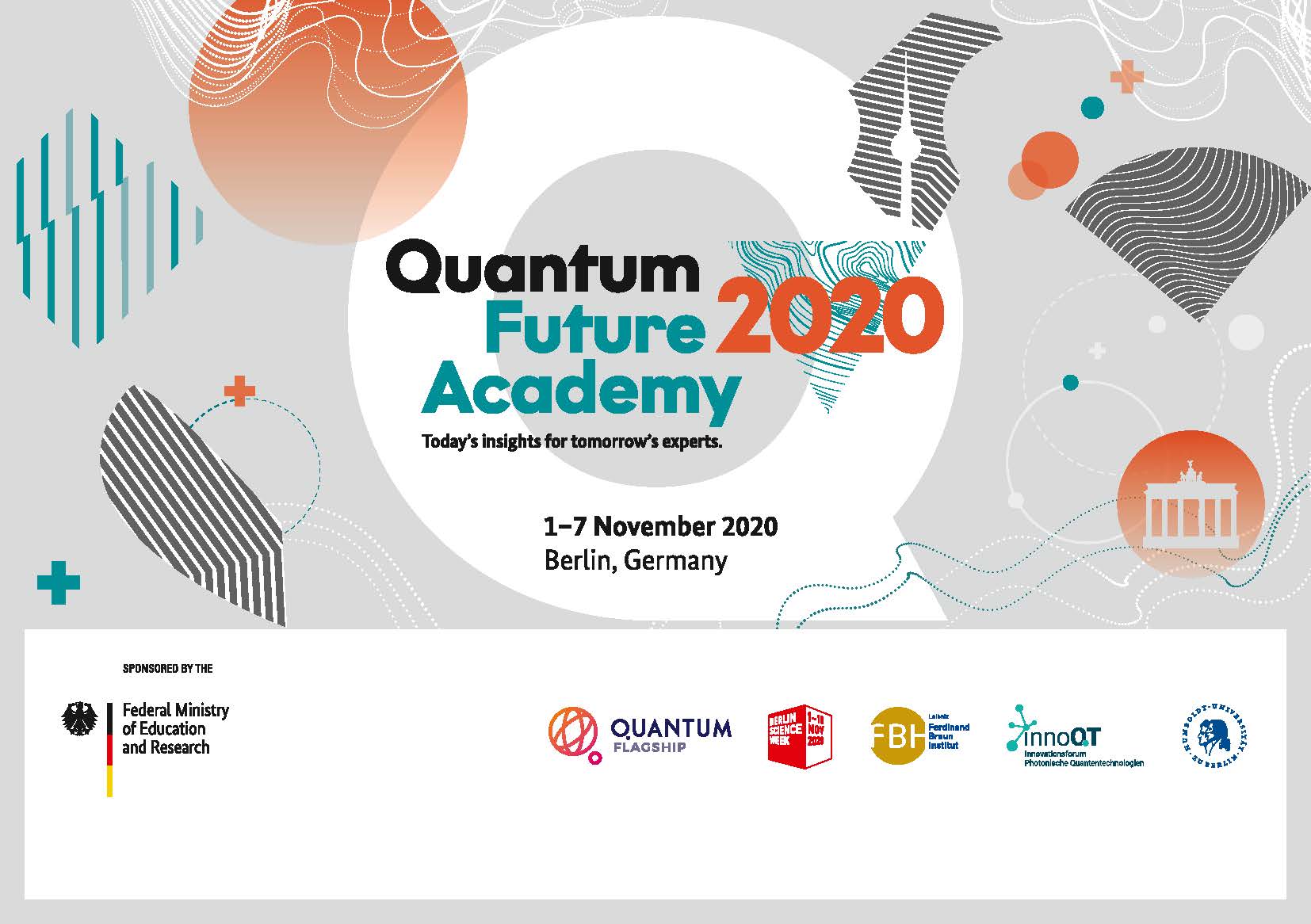 About QFA2020
In November 2020, the first European Quantum Future Academy will take place in Berlin under the motto "Today's insights for tomorrow's experts". As part of its EU Council Presidency, Germany, with the Federal Ministry of Education and Research (BMBF) as host, will invite around 60 selected students from the natural and engineering sciences from around 30 European countries to an exciting and exclusive week in Berlin.
From November 1st to 7th, participants can expect exclusive insights into the most diverse areas of applied quantum technologies. These include visits of companies and laboratories, meetings with researchers and industry partners, interesting hands-on workshops and extensive networking opportunities. Of course, cultural activities in the cosmopolitan city of Berlin are not neglected.
The Quantum Future Academy is an initiative of the BMBF and is organized in 2020 in cooperation with the European Quantum Flagship and supported by numerous institutions in the participating countries. The application process for the Academy is organised independently by the European partners in their country. This event is motivated by the intention to support the formation of a sustainable network of young European researchers in the future field of quantum technologies.
For more information about the Quantum Future Academy visit www.quantentechnologien.de/QA2020


Austrian Selection Process
In Austria the selection process of the two participants is steered by the Special Research Programme (SFB) BeyondC, which is comprised of 10 Austrian research groups who cover the current research done in quantum information science in Austria.
In Austria a two-step selection process will unfold as follows:
The Principal Investigators (PI's) of the SFB are asked to nominate from their research institute the most outstanding Master students, who would benefit from the Quantum Future Academy the most.
The nominated students will be contacted by SFB coordinators and asked to send the following documents: CV and transcript of records (last two semesters) to beyondc

@

univie.ac.at.
The board of the SFB consortium will review the applications and select two students for the main Quantum Academy Event in Berlin.
Important dates:
May – June: Call for nominations

30 June - Deadline for nominations

July: Call for applications from the nominated students

31 July – Deadline for submitting the application

August: Evaluation

End of August: the selection of the two winners
For further information and more questions, please contact beyondc@univie.ac.at.

Stay tuned on Twitter at @QuantenTech and #QFA2020.